It's official - Phils sign Kris Benson to minor league contract
CLEARWATER, Fla - Twenty-four hours ago it looked like the end of the road was near on the ongoing overtures between the Phillies and Kris Benson.
Wednesday afternoon - less than 24 hours before pitchers and catchers have to officialy report to Spring Training - the two sides reached the end, agreeing to a minor league contract.
Details of the deal with Kris Benson aren't available yet and the contract won't be official until he has a physical, but according to Phillies officials he will be in camp to compete for a job.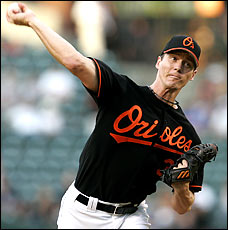 "I was very encouraged with the workouts," said Phillies scout Chuck LaMar. "He was anxious to get this thing done and he wanted to be a Philadelphia Phillie, he thought it was a good opportunity for him. (He showed off) all of his pitches - he's always been a command guy and he showed a lot of command in his two workouts."
Benson, who missed all of last season while recovering from right shoulder surgery, is 68-73 with a 4.34 ERA in seven major leage seasons with the Pirates, Mets and Orioles. Baltimore cut ties with the right-hander in November when it declined a $7.5 million club option.
Benson received a $500,000 buyout from the Orioles. He went 11-12 with a 4.82 ERA in 2006.
Although Benson may have the inkling of competing for a spot in the rotation this spring, LaMar cautioned the newest Phillie may not be ready. Benson is only 10 1/2 months removed from labrum surgery.
"He feels like he's gonna be ready for opening day; history shows he may need more time than that," said LaMar, who saw Benson in private workouts twice last month. "There's a difference between throwing two sidelines in an auditorium and getting major league hitters out.
"He still has a ways to go, he knows that. Hopefully sometime between Opening Day and the first of June, somewhere in that timetable, he'll be ready to go."