Cole Hamels says not starting Opening Day is "no big deal"
Anyone who feared
Cole Hamels
may not react well to not getting the nod for Opening Day can relax.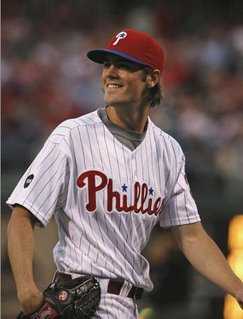 The laid-back, California-cool lefty is completely fine with being passed over in favor of veteran and incumbent Opening Day starter Brett Myers. Hamels actually prefers going second, following Myers in the rotation.
"When I was first called up (in 2006), I kind of used him to my advantage, with him going out there in the first game, me taking the second game and knowing what to do a little bit more from watching him," Hamels said Wednesday morning. "So if he goes out there on Opening Day, it's not big deal to me. It just kind of gives me two more days off."
The news that Myers would start Opening Day, announced by manager Charlie Manuel Tuesday, was mildly surprising since Hamels emerged as the Phillies ace last year while Myers flourished in the bullpen. Hamels earned his first all-star berth and Despite missing a month with a mild left elbow strain in mid-August, the 24-year old left-hander finished 15-5 with a 3.39 ERA and struck out 177 batters in 183 1/3 innings in his first full season with the Phillies.
Regardless of his break-out season, he doesn't feel slighted.
"I think my understanding going into spring training was to just go out and play," Hamels said. "It wasn't if I was going to be the No.1 guy just because I knew Brett was coming back (to the rotation) and I liked the fact that he was coming back he and I are able to work off of each other.
"So if he was the No.1 or I was the No.1, it wasn't a big deal to me."
Myers and Hamels were also slotted No.1 and No.2 last year at the beginning of a season that ended with the team earning its first division title and playoff appearance in 14 years.